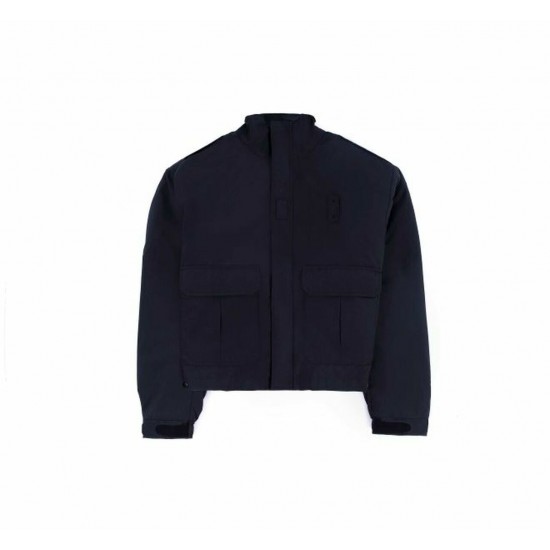 New
Blauer 9910Z GORE-TEX® CRUISER JACKET
KEY FEATURES:
Waterproof, windproof, breathable GORE-TEX® fabric lining
Zip-out Insulated® fleece liner for flexible all season wear
Drop shoulder design for unrestricted movement during active duty
Rugged yet lightweight, waterproof, breathable, and warm. When it comes to protection from the elements nothing works better than GORE-TEX® fabric outerwear from Blauer. The first duty jacket with GORE-TEX is still the best there is. Ask any officer or soldier who owns one. Blauer GORE-TEX duty jackets breath like no others, keep officers warm and dry, and seem to last forever. Blauer and Gore are the best combination in the duty uniform jacket business. There are countless GORE-TEX duty jackets still in the field every day that we built in the 80's. Buy once, buy right, buy GORE-TEX for the best value in uniform outerwear.
Our ripstop nylon shell is specially back-coated with a patented breathable polymer that gives the shell wrinkle resistance and improves durability while allowing moisture vapor and sweat to escape through it. We often demonstrate its capacity to breath by forcing steam from a handheld steamer through all of the layers of the jacket, including the insulated lining.
The GORE-TEX Cruiser Jacket was one of the fist ever duty jackets designed with a drop shoulder, even before the first tactical jacket was ever designed. This Blauer innovation to police outerwear moved the shoulder seam off the shoulder slightly and allows the arms to rise up without the waist of the jacket climbing up the back. Blauer duty jackets are fully cut and allow for a little extra sleeve length and two piece sleeves to shape the arm for driving comfort. This Cruiser Jacket comes with a removable Insulated insulated liner for all-season versatility.
ADDITIONAL FEATURES:
Rugged Ripstop fabric with patented breathable printed backcoating
Standard SCOTCHLITETM deploys from under cuffs & collar
Seams sealed with GORE-SEAM® tape
Zippered side openings provide access to weapon or equipment on duty belt
Adjustable cuffs secured by hook-and-loop fastener
Double storm-flap front extends to top of sport collar
Double-entry lower pockets with flaps
Large inside security pocket
Pit zippers for access to shell
Badge tab; military-style epaulets with uniform buttons
241/2" long

BLAUER